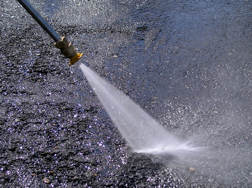 Uses
In its extreme high pressure form, water is used in many industrial cleaning applications requiring the removal of surface layers as well as dust-free cutting of some metals and concrete.
For exterior applications, gas or propane powered pressure washers provide enhanced mobility not available in electric models, as they do not require use in proximity to an electrical outlet. However, for indoor applications, electric pressure washers produce no exhaust and are much quieter than their gas or propane powered counterparts.

High-pressure water at medium pressure, in combination with special chemicals, aids in the removal of graffiti. This process (especially when the water is hot) is used as a quick rinser of the softened graffiti. Sometimes people use a pressurized mixture of air/sand or water/sand to blast off the surface of the vandalized area, thus etching the surface and therefore making it extremely difficult for anyone to ever use high-pressure cleaning as a follow-up process. Sandblasting, when used in graffiti removals, often overcleans a surface and is capable of leaving a permanent scar on the building surface.
Types
Pressure washers are classified into following groups based on the type of fuel/energy they consume.
- Electric pressure washer
- Diesel pressure washer
- Petrol pressure washer
- Gas pressure washer
- Ultra high pressure washer
- Hydraulic high pressure washer
- High pressure steam cleaner